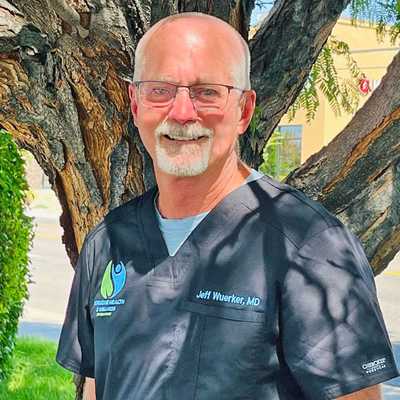 Dr. Jeff Wuerker, Medical Director
Dr. Jeff Wuerker grew up in Steamboat Springs, Colorado where in his younger years he discovered his love of skiing. He found medicine as a career while obtaining EMT/Paramedic certification to work as Ski Patrol. Through these experiences he had his first interactions with physicians in the ER while doing paramedic training. This led Dr Wuerker to continue his education at the University of Colorado, Boulder, University of Colorado School of Medicine, and he completed his medical residency in Atlanta, Georgia at Emory University. He is Board Certified in Emergency Medicine.
Dr. Wuerker is a family man with three young children. Together with his wife, they spend most of their time outdoors camping, biking, skiing, and hiking. Dr. Wuerker first experienced Bioidentical Hormone Replacement Therapy (BHRT) through testosterone injections. He has been a patient of Hormone Health and Wellness for the past several years and currently gets his BHRT via pellet therapy. Dr. Wuerker has been trained by Dr. Angela DeRosa, DO and Dr. Zarzuela, DO in Bio-Identical Hormone Replacement Therapies.
Dr. Wuerker is excited to join the staff of Hormone Health & Wellness as our Medical Director.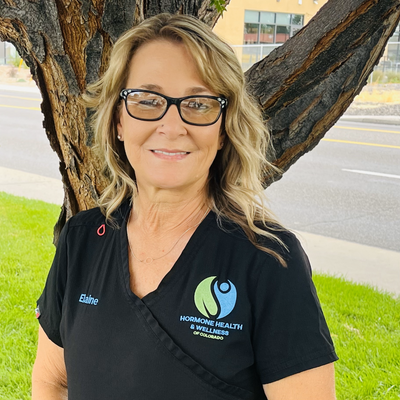 Elaine Sadler, Certified Phlebotomist/Medical Assistant
Elaine has worked in the field of medicine for over 20 years with experience in stem cells, PRP treatments, and harvesting cadaver corneas.
In her spare time, she works in advanced skincare, providing her clients with great skin.
Elaine was born and raised in Loma, Colorado where she still resides. She is the proud parent of 2 adult children and grandmother to 3 children she loves spending time with.
Elaine enjoys the Colorado outdoors by paddle boarding, four-wheeling, riding horses, and spending time with her 3 loyal dogs.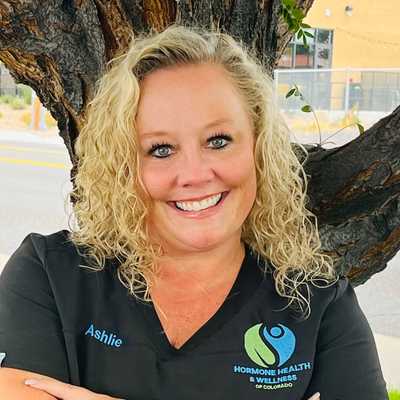 Ashlie Zimmerman, Client Relations Manager/Consultant
Ashlie is a Certified Pharmacy Technician with experience in pharmaceutical sales, compounding, purchasing, hospital, chemotherapy, long-term and retail pharmacy. Ashlie's pharmaceutical and healthcare experience has included working with Bioidentical hormones for over 11 years in all these various forms.
She is incredibly involved in her community volunteering in organizations such as Junior Service League, Rotary Club, Girl Scouts, MS Society, Alzheimer's Association, and the local GJ Chamber of Commerce. She served on St. Mary's Foundation Board for 6 years. She served a 4-year term with Strive's Foundation Board as past chair. She also served on the Junior Service League Board in several positions for a 4-year term. She served as a volunteer for the local March of Dimes, helping organize the Walk for Babies event. In Ashlie's spare time, she loves to travel, spend time with friends and family, and get on her road bike to enjoy the fresh Colorado air.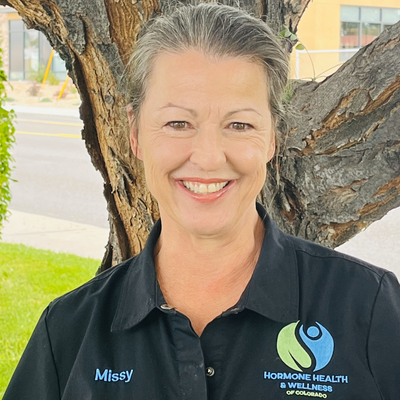 Missy Alexander, Registered Nurse
Missy has been a practicing RN for over 40yrs. Her passion to help others drove her to advance her career. She continued her education, becoming certified as an ophthalmic technician and assisting in ophthalmic surgery.
In addition to Hormone Health and Wellness, Missy works as an ER nurse at local hospitals. She has a passion for helping others live their fullest life and knows hormone pellet therapy is a great way to do that. She is patient-centered and outcome-driven.
Originally from Louisiana and a true Cajun, Missy moved to Colorado for the beautiful outdoors. She has been married for over 30 years to her husband, a retired pharmacist. They have three children.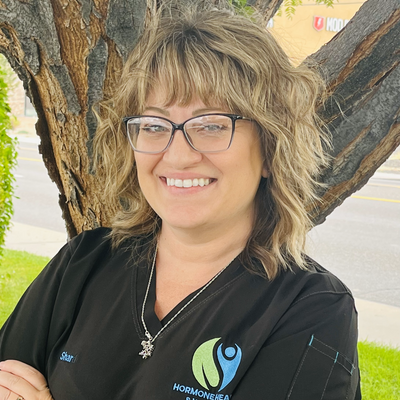 Shardai Salaz, Front Office Receptionist/Scheduler
Shar (as you will hear her refer to herself on the telephone) has been in the medical field for 15 years. She has spent those years as a certified Medical Laboratory Technician, working at hospital laboratories across Utah, Arizona, and Colorado.
She is originally from Vernal, Utah. She attended college in both Grand Junction and Colorado Springs. After doing some traveling for work, she moved back to Grand Junction and has been here the last 11 years. She is married to the love of her life and has two teenage stepdaughters.
Shar is a self-proclaimed crazy cat lady. She loves all cats but especially her cat named Biscuit. She also enjoys paddle boarding, traveling, and playing in a billiard league with her family.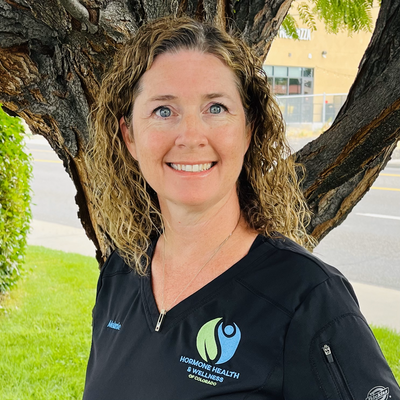 Melanie Wuerker, Registered Nurse
Melanie has worked in the medical field for over 17yrs. She started as a rehabilitation assistant at a sports rehabilitation center in Montrose. She then advanced her career and graduated from Colorado Mesa University with a bachelor's degree in Science in Nursing in 2014. She has worked in multiple capacities during her nursing career and brings her knowledge and skills to our office.
Melanie is a dedicated mother, wife and nurse. She enjoys biking, hiking and swimming with her family.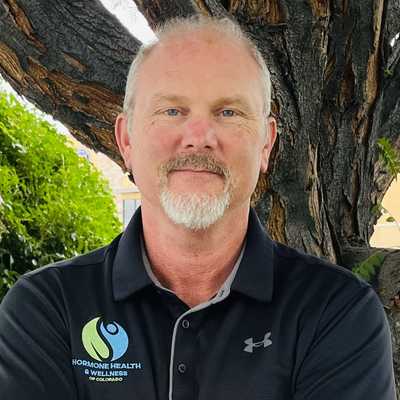 Trey Graves, Owner
Trey began as a BHRT patient 5 years ago and after experiencing the amazing results personally, he wanted to bring the benefits to the Grand Valley. After 25 years in construction, his body was feeling the abuse from the physical nature of the industry. Thankfully BHRT has improved his joints and his overall quality of life. In 2020 he took the leap of faith and opened this office knowing that if just a few people had his great experience, word would spread and it did. Opening the doors for business right before the COVID-19 pandemic had its challenges, but thankfully loyal patients from across the Western Slope, Wyoming, and Utah keep seeing great results.